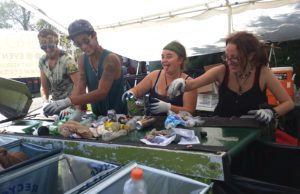 Volunteers Sort
Volunteers work with our staff to sort waste materials generated within the festival grounds. They work on one of our sorting belts, taking out recycling and compost materials. Clean materials makes sure recycling and compost facilities can accept materials from festivals. 
Volunteers work with staff to collect full bags of materials from the festival grounds, and bring them back to the Zero Waste tent. We make sure no bags overflow and the festival grounds stay clean and well-maintained.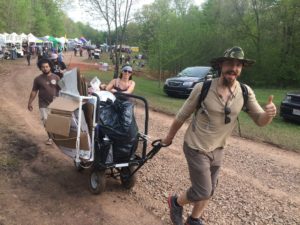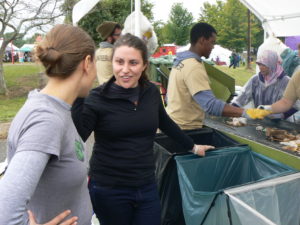 Volunteers learn about zero waste practices so they can educate event attendees about what's recyclable, compostable or reusable. They are our ambassadors to the festival and help bring a face to the festival's goal of going zero waste.
Volunteers Clean Up
Even at the best kept festival there is cleanup in the days following the event. Volunteers help do litter sweeps, and final checks to make sure we're leaving the festival grounds as clean as the day we arrived.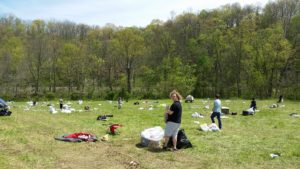 That sounds awesome!
Sign me up.
Some festivals we work with have their own Volunteer portal. Sign up to volunteer with us (Zero Waste, or green team) through their websites.
Our 2020 season has been heavily affected by COVID-19.
Please note that all volunteer opportunities are subject to change at the last minute due to cancellations and postponements of events.
Didn't find the Festival You were Looking for?
We are always looking for volunteers!
If you are interested in getting e-mails about our season schedule or want to know more about our work, please contact Shannon at: