Do You Want To Make Your Event Zero Waste?
What We Do
Zero Waste Event Productions is a social enterprise helping festivals to decrease their environmental footprint by diverting waste from the landfill through waste reduction, recycling and composting. We offer pre-event consultation, onsite management of materials, and post-event reports.
Using our waste sorting and diversion model, we have been able to divert over 90% of festival waste from the landfill, while also educating attendees about the importance of recycling and composting.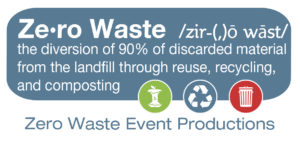 Zero Waste is an approach to resource management that conserves, repurposes and recycles what otherwise would be buried in a landfill, into valuable assets that contribute to environmental, economic and social well-being.
Our goal is to create a world where there is no waste. Until then, we support waste reduction and diversion efforts. For now, a zero waste festival is one that diverts 90% of all materials generated and discarded during the event from the landfill through reuse, composting or recycling.
Why Zero Waste?
Zero waste events are good for our planet and our future.
The United States' EPA estimates that for every 1,000 lbs of recycling sent to the landfill instead of recycled, approximately 3,107 lbs of CO2, or CO2 equivalent greenhouse gases are released into the atmosphere. (EPA WARM model 2016). That's the equivalent of 581 gallons of gasoline.
More and more festival attendees desire sustainable initiatives at festivals. Including zero waste at your festival will give you an edge in the ever-growing festival community.
Going zero waste is just one of many steps an event organizer can take to reduce their carbon footprint, keep their festival grounds clean and improve the experience of their event for attendees, but it is an important one.
Our History
Zero Waste Event Productions started in 2011, under Rural Action's Zero Waste Program.
We got our start working as a grassroots material management and recycling effort specific to the Nelsonville Music Festival. Over the years our effort grew. We added a composting service, began working with food vendors and festival organizers to change policies around what was distributed during the event, and increased our sorting effort to maximize diversion. The Nelsonville Music Festival has achieved a zero waste status four years running, as have new events and festivals who have picked up our service, including Bounty on the Bricks, the Ohio Pawpaw Festival, and The Athens Harvest Festival.
In 2015 Zero Waste Event Productions was established as a Social Enterprise. By the end of the 2017 season, we had spread our services to 25 events and festivals across Ohio and beyond. Currently, we have successfully diverted over 140,000 lbs of material from the landfill and reached over 190,000 attendees with our message of waste diversion.
Staff and Volunteers
At every festival we are joined by a great team of contractors, volunteers, and interns who help us meet the needs of each event that we service.
This is a group that is not afraid to get their hands dirty and are passionate about our work in waste reduction!
Want to Join the Team?
Sign up to volunteer with us through our volunteer portal.
Become a leader in sustainability! Hire Zero Waste Event Productions for your next Festival or Event.